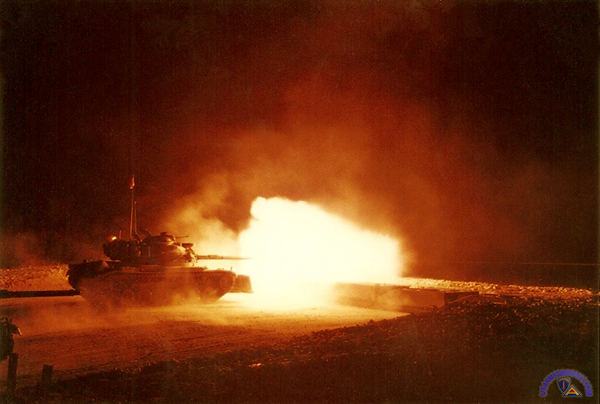 After the
first engagement
, we rolled down the firing lane scanning the trees and dunes ahead on the range at Fort Carson in southern Colorado. Off to the left just over a mile away, a 6 by 6 wood panel popped and I yelled my favorite fire command into the headset:
Gunner, HEAT, Tank!
At the moment, Burhans brought the tank to a smooth halt. I traversed the turret left and got the gun on the target. While the turret traversed Geno loaded a HEAT round into the chamber and yelled "Up" announcing the main gun was loaded and ready to fire. The High Explosive Anti Tank round has a projectile shaped like a whiskey bottle.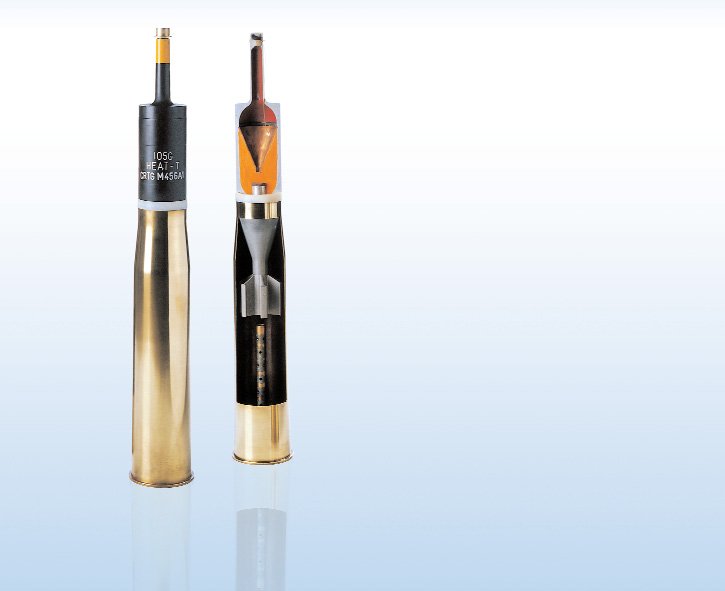 The round detonates when the nose of the round touches the target, but the detonation is at the back of the round. It forms a shaped charged that burns a hole through up to a foot of armor plate. An explosive shell would not penetrate half that much armor. The best round for punching through armor plate is the solid-shot SABOT. We'll get to that later.
With HEAT loaded, Merc moved the sights to center of mass of the panel, shouted "On the way" and fired. The tank rocked back as the main gun recoiled, splitting the turret in half. The spent cartridge from HEAT round clattered to the metal floor of the turret. Geno slammed another HEAT round into the chamber and yelled "Up." I saw the tracer pass through the panel with my binoculars and announced "Hit."
One of the advantages of HEAT over the more effective SABOT round for the tank commander, is that it is easier to adjust fire. With a muzzle velocity of 3,850 feet per second, the HEAT round took two seconds to travel from the gun to the target. The SABOT round covers the same distance in just over a second. That extra second gives me a better chance of seeing through the huge cloud of smoke and flame coming from the gun muzzle.
Merc refined his aim as he always did, announced "On the way" and fired. Another round, another hole in the panel. "Driver, Move Out."
Next, machine guns.