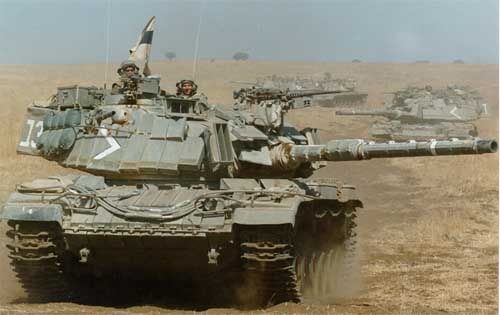 In July and August 1975, I went to the U.S. Army Armor School in Fort Knox, Kentucky, after three years in missile weapons testing.
We learned the basics of armor and about our tank, the M60A1. We also learned about a serious flaw in our tanks that was fixed at great cost by the Israeli Army. The Israelis fought and defeated the armies of Egypt, Syria and Jordan using the M60A1 among other tanks. It turns out the hydraulic fluid in our tanks was prone to catch fire. After the Israelis lost crewmen to these fires, the hydraulic fluid was changed.
We also learned how important mechanical reliability is to combat tank crews. The Arab countries used Soviet tanks, primarily the T-55 and T-62 main battle tanks. We learned the difference between "live" and "dead" track. Soviet tanks used dead track, like bulldozers that does not use rubber bushings. In hard use, especially at high speeds, dead track is more prone to break. According to one report, the Syrian Army lost one-fourth of its tanks before they reached the battle in the Golan Heights due to automotive failure.
After the 1973 War, the Israelis installed American-made drive lines in captured Soviet tanks to make the Soviet armor more reliable.
To people who have never trained and lived in a tank, they can seem like the indestructible behemoths of movies. But real life in a tank is a life of wrenches and rags. As a tank commander of one of the most reliable tanks of its time, my crew and I spent five hours or more maintaining our 54-ton tank for every hour of operation. Each of the 80 track blocks on each track were held together with a center guide and two end connectors. Each of the 160 center guides and 320 end connectors could work loose and had to be checked, often. The center guides ran between six pairs of road wheels, three pairs of return rollers, the drive sprocket and front idler wheel for adjusting track tension. Each of the wheels had inner steel plates bolted to the aluminum wheels. The road wheels were attached to torsion bars.
We tightened bolts all the time. Our tanks would received major service at 6,000 miles of operation, usually including a refurbished V12 diesel powerplant and transmission.
And our tanks were so much more reliable than the Soviet counterparts that the Israelis ditched their drivelines and installed American-made drivelines to make the Soviet tanks more reliable.
War shows strengths and weaknesses. Reliable, effective armor is definitely an American strength.