Tuesday, March 29, 2011
Last Thursday I had lunch with Col. Scott Perry and SPC Andrea Magee at the cafeteria in the state capitol in Harrisburg. Perry was my battalion commander in Iraq, Magee was his assistant. Perry is the state representative for the 92nd District in Pennsylvania. Our state, like many others, is in the middle of a messy budget process, so Perry had to leave one of the marathon sessions for lunch. Andrea and I both thought lunch would be fast because of all Perry had to do, but we talked for most of an hour and got a look at the legislature you don't see from the gallery.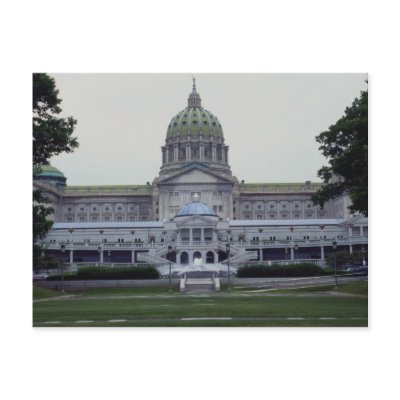 The Pennsylvania State Capitol building is by many one of the
most beautiful buildings
of its kind in the world. He told us where in France the marble that lines the walls, the artists who painted the murals, when different parts were restored--he is an encyclopedia of Capitol facts.
At lunch we talked about Andrea's path to a commission and her life as a full-time soldier with a full-time soldier husband in the same brigade. In addition to the budget, Scott's wife is 7 months pregnant with their second child, construction of their new home is delayed by the weather, and he is in a master's program at the Command and General Staff College.
We all talked about how much easier life was in Iraq--at least as far as setting priorities. We all had a commander and nothing to balance in life--work, eat, sleep, work out and do the whole thing again.
In the fall of 1977, 4th Brigade, 4th Infantry Division got a new Command Sergeant's Major.  Donald C. Cubbison, veteran of the Vietna...

Myles B. Caggins, III, promoted today to Colonel Today, I heard one of the best speeches of a man honored in his profession that I he...

The night before my Basic Training haircut. When I arrived at Lackland Air Force Base on February 1, 1972, among the first order of bu...