In recent months I have immersed myself in my past in a way I have never done before. For a couple of months I have been writing about my life as a soldier. I started out writing about my tank, but have since veered off into writing about Basic Training. In military life, the transition from civilian to soldier is a change beyond every other change, even the change back from soldier to civilian.
In the past year, my Jewish identity has also emerged from some vague part of my past to a very present reality.
It would surprise no one, that as I write about my military past and learn more about Judaism and my Jewish identity, that my father would appear, sometimes vividly, sometimes in a whisper. He was an American Soldier and the fourth of six sons of Jewish immigrants from Russia. (Now Odessa, Ukraine. They called it Russia.)
Among all of my family, my son Nigel has been most interested in, and my occasional companion on, my ventures exploring my past.
On Monday, the
Martin Luther King, Jr., holiday
, we visited the
National Museum of American Jewish History
in Philadelphia.
I particularly wanted to see an exhibit that was closing soon on the Russian emigration from the Soviet Union to Israel and America and other countries from the 1960s through the 80s. After Nigel and I walked through that exhibit, we sat in a viewing area on the first floor and watched a series of two-minute biographies of prominent Americans Jews of the last century. When Sandy Koufax was on screen, I reminded Nigel that his grandfather pitched for the Reading Phillies in the 1930s. When the biography of Estee Lauder began, the soft-voiced announcer said she was born in 1906, the same year as my father.
Estee Lauder, 1906-2004
The short video traced Estee Lauder's career making cosmetics. She began her business in the 1920s and continued to grow her business though the Great Depression and on to great success in the post-war years. We watched a dozen more biographies, then took the Market Street El to 30th Street Station for the train home.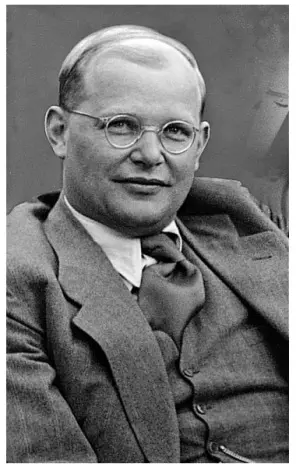 Dietrich Bonhoeffer, 1906-1945
As we waited for the train, I got an article from a Jewish activist friend about Dietrich Bonhoeffer.
Bonhoeffer was in America in the late 1930s studying American spirituality. With war looming and Hitler's attacks on Jews and other people of faith growing, Bonhoeffer left the safe haven of America in June of 1939. In Germany he organized a Church for believers who were against Hitler and then joined the resistance. In the last month of the war, April 1945, Bonhoeffer was murdered by the Gestapo in the Flossenburg Concentration Camp. He was a German who fought Hitler and died with Jews.
In December, Nigel and I had seen a display of children from the Flossenburg Concentration Camp at the
Museum of Jewish Heritage in New York
.
While Bonhoeffer struggled against the Nazis in Germany, my father commanded a Prisoner of War Camp for 600 soldiers of the German Army's Afrika Korps. My father came home to Boston after the war with my mother who he met and married during the war in Pennsylvania. In one of those odd twists of fate, I live less than 30 miles from that Prisoner of War Camp which is now the Reading Airport. Before he was commander of the POW Camp, my Dad commanded a Black Company.
And in 2018, the Black grandson my Dad never met--George Gussman died in 1982--went to a Jewish museum on Martin Luther King, Jr. Day to learn about his family's history.
My father and Estee Lauder were both children of immigrant Jews born in America in 1906. They lived long lives because their parents came here, leaving countries that would be crushed by Hitler in the 1940s. In that same year, 1906, a leading German family of scientists and thinkers added a son who would become a famous man of faith. Bonhoeffer was offered shelter in America and turned it down to return to his people.
These three lives share only a birth year and the admiration of a son and grandson who learned a little more about courage and the best of America on a day devoted to an American hero.