On December 19th, 1969, I got my driver's license after taking the test at the Metropolitan District Commission office in Woburn, Mass., the next town over from Stoneham, where I grew up.
Getting my license was the best thing that happened in my life up to the moment. I was obsessed with cars and all things with engines. I still am obsessed with wheels, but am more crazed with bicycles than cars and motorcycles.
When we drove down the highway on family trips, I was counting the wheels on trucks passing in the other direction. On the trips in New York state I could count the wheels on double-trailer rigs that had up to 34 wheels and tires.
My Dad was a warehouseman and drove occasionally when the grocery company where he worked was short of drivers. Dad did not try to make me obsessed with cars and trucks, but his actions had that effect. He worked six days a week and fell asleep watching football every Sunday afternoon.
The times we spent together were always a drive. He did the grocery shopping and I went along. Sometimes in the evening he would say, "Let's go for coffee." We would drive to Howard Johnson's or a diner he liked. Dad would tell jokes to the waitresses and the customers. I learned that coffee and jokes were the best part of life. (Health note: I drank hot chocolate.)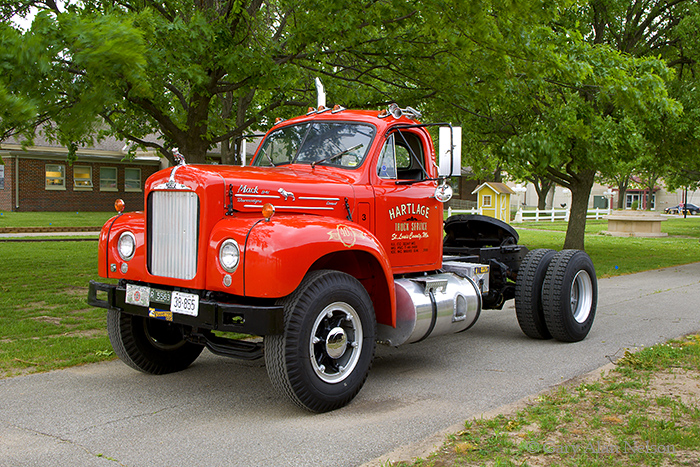 But the day my father made me completely car/truck crazy was in 1961. I was in Miss Bovernick's 3rd Grade Class at Robin Hood Elementary School. Dad knew which class was mine. The windows in our class faced the semi-circular driveway in front of the school.
Dad was taking a load of frozen food to New Hampshire on a Friday afternoon in the Spring. He stopped on the way to pick me up at school after lunch. He parked the 40-foot semi with a bright red Mack B-61 tractor right in the driver. The idling diesel engine rattled the windows. The whole class ran to the windows to see the truck.
My Dad walked in class and asked Miss Bovernick is he could take me out of school early. Third grade doesn't get any better than leaving school early to ride to New Hampshire in a bright red Mack truck.
If you want to get a little boy crazed over cars and trucks, that's the way to do it.
I joined the Teamster's Union and worked in the warehouse after graduation, but never became a truck driver. Though I did drive a lot of diesel vehicles in the Army.