Gina Elise operates and is the Star of Pin-Ups for Vets, a non-profit support group for hospitalized veterans. She visits hospitals and sells posters and calendars.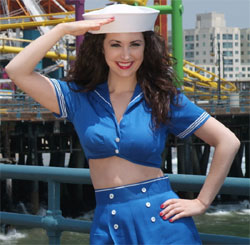 For more information, Gina has a
web site
and a
Facebook
page.
We talked a little bit about visiting Brooke Army Medical Center in San Antonio. I had a chance to visit in 2008 and was briefly there in 2010. Gina visited in 2009. She happily agreed to getting her picture taken with me--as long as I held the calendar for product placement!!