Wednesday, May 7, 2008
After choke holds, claymore mines, and combatives today was the opposite. I spent the morning in a classroom with 250 other soldiers reviewing the combat lifesaver course and taking the written test. I know this is serious stuff, but the guy who put the title on this course does not think literally. When I hear combat lifesaver, I think I am going to get a pack of camouflage-colored round candy. Anyway, the class and exam lasted from 8 am to 1 pm. After that we had a one-hour break and then went to begin three days of pre-deployment. We begin at 0515 tomorrow morning, but today, the processing staff had to make sure we were ready to begin. We were picked up in buses at 1415 and driven to another area of the base four miles away. We then had two roll calls. Then we were done. But it was three pm and the schedule said we were supposed to eat dinner were we were and return at 1830. So we waited 2 hours to eat. I waited three because I fell asleep until 1800 (6pm). Then we waited until 630 pm and returned to our barracks. One day of excitement. One day less exciting than watching paint dry.
The drill sergeant is judging the soldier in front of him. "Don't Judge Me!" was a phrase I heard more and more often i...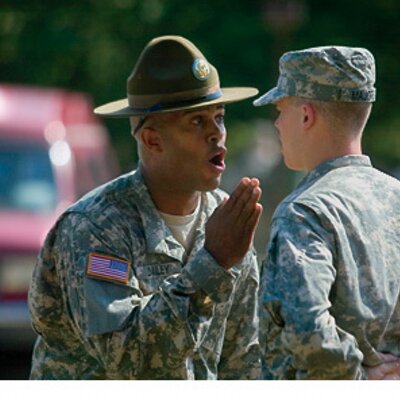 Myles B. Caggins, III, promoted today to Colonel Today, I heard one of the best speeches of a man honored in his profession that I he...

On the train to Philadelphia recently, the toilets had water, but the sinks did not in the last two cars. I walked three cars away from m...