Saturday, October 20, 2007
During the Viet Nam War soldiers were pariahs in many parts of the country. Tonight, I stopped at Starbucks on Columbia Avenue in Lancaster on the way back from drill. The man in front of me in line was in his 40s. After he ordered two coffees he asked if I was having coffee, then bought mine also. He thanked me for fighting the war on terror. Nothing like that happened to me during Viet Nam.
After morning formation we had a mandatory one-hour safety briefing for everybody. After the briefing, the battalion commander got up to say that, while he has no paperwork, the most likely timetable for our unit to be deployed is that we will move to deployment training in January of 2009, then "boots on the ground" in March 2009. He also said we may have as many as three two-to-three-week training sessions during 2008.
At this morning's formation, three soldiers were late including a staff sergeant. After calling us to attention and receiving the morning report, the first sergeant told the three tardy soldiers to "Drop and start knocking 'em out." (push-ups) He let them do about 15 push-ups before saying "Recover" and letting them return to their places in the formation.
The drill sergeant is judging the soldier in front of him. "Don't Judge Me!" was a phrase I heard more and more often i...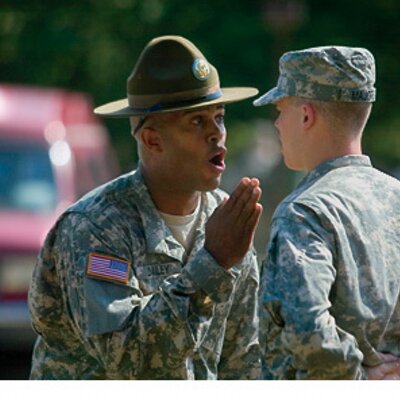 Myles B. Caggins, III, promoted today to Colonel Today, I heard one of the best speeches of a man honored in his profession that I he...

On the train to Philadelphia recently, the toilets had water, but the sinks did not in the last two cars. I walked three cars away from m...